OPEN EVERY DAY OF THE YEAR
WINTER (1 APRIL – 14 DECEMBER):
11:30 TO 17:00 |
SUMMER (15 DECEMBER – 31 MARCH):
11:30 TO 19:00
LOCATED IN THE MARKET AREAS OF PARQUE KÜMUN ON CAMINO INTERNACIONAL (INTERNATIONAL ROAD)
Parque Kümun, located in the center of Neltume, represents the rich cultural and historical significance of our products. Our artisans make each handmade product with extreme care and deliberate thought. The wood, wool, felt, and other materials collected from the Neltume area help tell our story. This directly reflects our mission to provide products that are created by locals, sold by locals, and that are naturally sourced from local surroundings.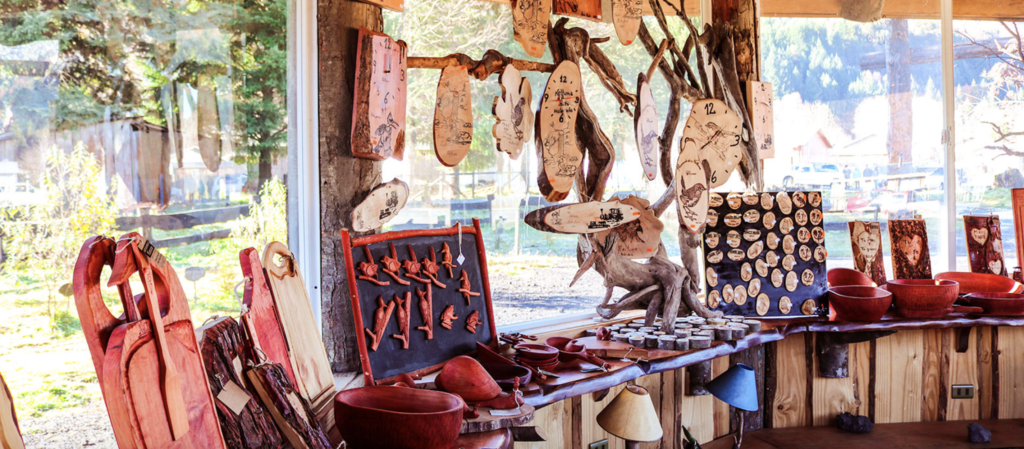 Our group has been operating for two years. We are located in the market area of Parque Kümun on Camino Internacional (International Road). The Huilo Huilo Foundation supports our group by providing our physical space. Our group is based on three fundamental principles. First, all the handicrafts that we sell in our two stores are created by members of our group. Second, all the products that we sell are directly connected to the natural environment of the region; all the materials we use and the source of the inspiration for our craftsmanship come from our surroundings. And third, all the members of our group take shifts working in sales. Our group consists of 14 members: nine women and five men.
We have two sales premises that are separated by type of craft. The first store, which can be seen from the entrance to Parque Kümun, is dedicated to selling wood products. Raulí (Nothofagus alpine) and Mañío (Saxegothaea conspicua) are the primary species that provide wood for our crafts. The second store is dedicated to products made from wood and felt. These products celebrate forests, fairies, elves, mammals, amphibians, and other elements that are unique to the area.
Our wood products include items that are used decoratively (boards, clocks, animals of the region) and in the household (plates, bowls, chopping boards). These objects are handmade and feature details created with pyrography (fire) and different carving techniques. All of our wood products are made from unwanted wood that would otherwise be thrown away. It is available in the Neltume and Lago Neltume regions.
Our wool products are made by hand using knitting needles and looms. Special needles and wool are used to make felt by hand. Fairies, elves, and other symbols of the region are also handmade with raw materials from the area.