"Neltume is a locality in the mountain range of the Region of the Rivers, Chile, pertaining to the commune of Panguipulli. It is located on the stretch of the Fuy River, 5 km from Puerto Fuy. It has a population of 3,500 inhabitants. Huilo Huilo is an area that was declared a Biosphere Reserve in 2007 by UNESCO. Globally considered as a priority area for conservation since it has a Temperate Humid Forest, it is characterized by some of the greatest biodiversity of endemic animal and plant species on the planet."
We are located in Neltume, just 800 meters from the entrance of Huilo Huilo, 6 km from Lake Pirehueico, 6 km from Lake Neltume, and 15 km from Lake Panguipulli. We are only 3 km away from the Magic Mountain Hotel and Nothofagus. If you want to enjoy the hot springs, you will find them 25 km away from us.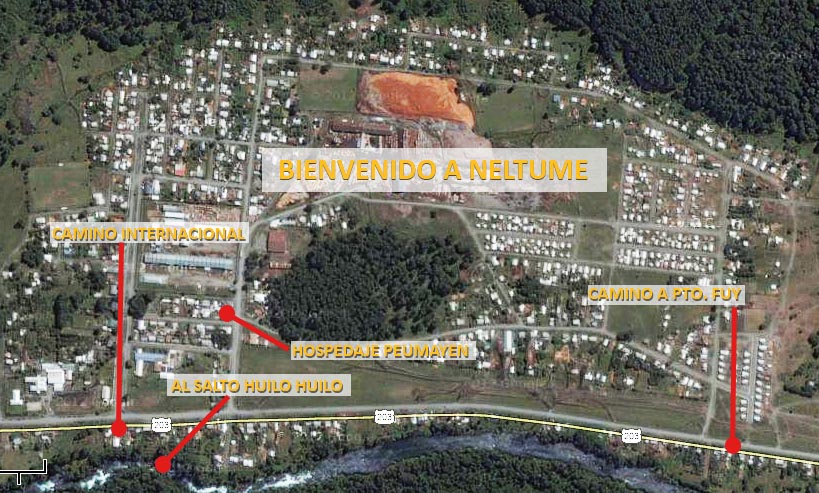 Our lodge has four bedrooms, stay WiFi, satellite television in all rooms, a 32-inch TV, and private parking to ensure a comfortable stay.
Description of the rooms:
One room with a double bed plus an additional bed, futon, and private bathroom.

One room with a double bed plus an additional bed and private bathroom.

Two joint rooms which share a bathroom.
The lodging includes breakfast for each of our passengers. Click here to see our facilities. (Read more)
Our recently constructed cabins are entirely made of wood in the rustic style. Each cabin has two bedrooms ( full bed and double) and a large grassy yards for recreation facing a park of oaks. The cabins have private parking as well,
They are equipped with:
A full American kitchen, dishes, gas stove, microwave oven, refrigerator with freezer, grill, slow combustion to firewood(firewood supply is free), bedding, towels, hair dryer, Led 32 inch TV (connected to DirectTV), and stereo.
Arriving to Neltume is already an experience, to cross it quite frankly is something moving because of the diversity of its nature which is why we offer bicycles. With them you can create your own limits.
Lodges (continued): The Peumayen lodging is the starting point for your adventure, here you will not only find service, but friendly and cordial people who will be a faithful reflection of the South of Chile. At your disposal we have: a lodge that has rooms with a private bathroom, cabins for 4 or 5 people, house service, and breakfast that are both included. Come, we are waiting for you!
Low Season
Cabin 1 Room, capacity for 2 passengers, $45,000 pesos a day with IVA included

Cabin 2 Room, capacity for 4 passengers, $60,000 pesos a day with IVA included

1st of March to the 30th of June
1st of August to the 31st of December 
High Season
Cabin 1 Room, capacity for 2 passengers, $50.000 pesos a day with IVA included
Cabin 2 Room, capacity for 4 passengers, $75.000 pesos a day with IVA included
 1st of January to the 28th of February
1st of July to the 31st of July
Country: Chile
City: Neltume
Code: 063
Telephone: +063 1972383
                   +09 94458349
                   +09 94388191
Email: reservas@turismopeumayen.cl
Miscellaneous Information
In Mapudungun:
Peumayen: Dream place
Huilo Huilo: Deep crack
Neltume: Land of the liberated 
Pirehueico: Place of snow water; of 'piire,' snow; 'hue,' place; and 'ico,' water