COVID-19 Protocol:
We are in compliance with all of the official protocols established by the Health Authority for the prevention of the spread of COVID-19.
Member of the Neltume Association of Tourism and Commerce
Address: Route T29 (Camino a Liquiñe) 5 km from crossing with Camino Internacional 
Property of Mr. Juan Carlos Kearsly and Mrs. Elizabeth de Kearsly
«Super Host» award by Airbnb
Features
Cabaña Lago Neltume offers 4 cabins with a total capacity for 28 guests. All cabins have full kitchens with stoves, bedrooms, bathrooms and living rooms. The customer is responsible for providing his own meals. 4×4 vehicles are needed to be able to access the property, and transportation is offered from Route T29 for those who need it. There is a «quincho», or a party room, available for tourists. Wifi service is not provided.
All cabins are located in the Northeast part of Lake Neltume. The views of Lake Neltume and the Mocho and Choshuenco volcanoes are spectacular.
The cabins offer a destination of peace, tranquility, beautiful views of the lake, and sunsets that inspire.
Activities
Tourists will need 5 days to fully explore the Huilo Huilo Region in the community of Neltume. At Lake Neltume, tourists can: access the lake by boat, embark on serene hikes, visit craft workshops and partake in similar activities.
Seasons
The cabins are open year round. However, it is recommended that tourists call by phone beforehand to check for availability. Last minute reservations are accepted.
Rates
Rates vary by the size of the cabin, going from $ 85,000 (pesos) to $ 145,000 (pesos) per day.
The Kearsly family has lived at this property since 1993, and Las Cabañas de Lago Neltume have been in service since 2006.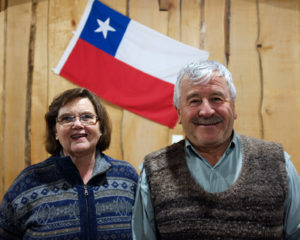 Contact: (56) 9 9886 9711 o (56) 63-1973812
E-Mail: juancarlos@kearsly.cl
AirB&B: Chichintahue Lago Neltume